Motorized shades in room darkening materials create restful bedrooms
Oct 19 2011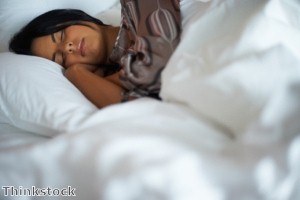 Motorized, room darkening shades can contribute to a good night's sleep.
There's a big bonus for adults who get six to eight hours of sleep each night - better health and sharper thinking.
Researchers have long believed that getting enough sleep is linked to good health. "Sleep provides the body with its daily need for physiological restitution and recovery," said Jane Ferrie, a senior research fellow at the University College London Medical School's epidemiology and public health department.
She and other scientists reviewed data on the sleep habits of 5,431 people, aged 35 to 55. They were surveyed at intervals during a 20-year period and tested on memory, reasoning, vocabulary, global cognitive status and verbal fluency. Tests showed lower scores for those who sleep less than six hours or more than eight hours, except in the area of short-term verbal memory.
One sleep aid is the choice of window covering in a bedroom. Blinds Chalet offers a wide selection of
motorized blinds
- including cellular and roller styles at affordable prices - that can be outfitted with room darkening materials to create a restful atmosphere. They can be controlled by a hand-held remote control or through wall electrical switches to instantly darken a room.
Bookmark/Share this page: