A well-coordinated bedroom includes stylish window treatments
Oct 18 2011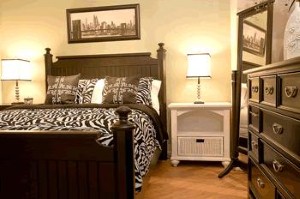 A well-chosen bed ensemble dresses up a bedroom.
A bedroom that ties together a beautiful bed ensemble, a stylish window treatment and plenty of hidden storage turns it into an ideal place to relax and sleep.
The bed is - and should be - the focus of the room, but only if it is outfitted well. According to Ultimate Home magazine, that means starting with a sheet set that will enhance the choice of duvet covers, shams and coverlets that are placed on top.
The duvet cover for the bed's comforter is often the same pattern as the shams at the head of the bed. European-style shams cover large, square pillows placed against the headboard. Boudoir shams cover smaller, travel-size pillows for pure decoration, the website explains.
A bedskirt provides a finished look and is a good way to hide an unsightly box spring and give a tailored finish to the overall ensemble.
For a window treatment, soft
sheer shades
look at home in both contemporary and traditional style bedrooms. Blinds Chalet offers soft sheer shades that are an elegant backdrop to an well-decorated bed. While they allow filtered light to enter a room, they also maintain visibility of outdoor views.
Bookmark/Share this page: