Roller shades are a versatile choice for windows in a laundry area
Oct 18 2011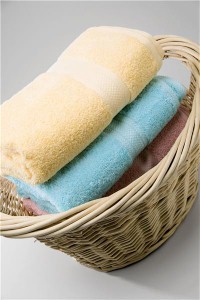 Bright colors can make a laundry room more inviting to work in.
Painting a laundry area sets it apart from other nearby rooms or sections of a basement and gives a jolt of bright color to an area that's usually more utilitarian than stylish.
If there's a window nearby, a roller shade in a complementing color or pattern will bring a decorator touch to the space. The selection at Blinds Chalet is affordable, stylish and can match any color scheme. They can be installed with or without overlying curtains and can be fitted to any size window.
According to HGTV, a work center can be designed to incorporate other clothes-related duties in the same area. An ironing board and overhead rack for hangers, as well as a surface for folding clothes are basic additions. Shelving for laundering products and equipment are also a must.
But if space allows, a comfortable chair and lighting can be set up for hand sewing or a chance to relax with a magazine while the laundry gets done.
HGTV also suggests installing a small bulletin board for children's drawings or family photos to make the laundry more inviting.
Bookmark/Share this page: