Good composition and personal style will lead to unique home designs
Oct 14 2011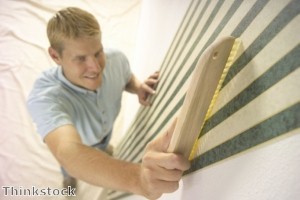 Wallpaper can create an instant focal point in a room.
If interior designer Melissa Alvarado Sierra has one message for would-be decorators, it's this: Simple can be beautiful.
"Decorating your dwelling doesn't have to be a laborious endeavor of putting together sophisticated color palettes, furniture pieces or a kaleidoscope of expensive accessories," she wrote in an article for Houzz.com.
To prove her point, Sierra listed a series of steps she believes will provide home decorators with a simple way to design while embracing their personal taste in home décor.
First, she advises all homeowners to look around at items they already own and see them in a new role. Vintage pitchers can become vases, or a flat-topped desk can be covered with a beautiful tablecloth and do double duty as a surface for a buffet when guests are expected. A worn piece of furniture that is sturdy with "good bones" can be revived with a paint job.
"For an affordable and effortless style with character, it's ideal to give new purpose to common items, but make sure you pay attention to composition," according to Sierra.
She once attached wallpaper in a patchwork quilt print to a closet door. It not only tied into the colors elsewhere in the room, but created an instant focal point in an area that would otherwise fade into the background. The effort proved her theory that prints, too often overlooked in favor of solid colors, can add punch to a plain room.
Window treatments
can also become focal points by complementing the colors and textures in a room's design. Blinds Chalet's
woven wood shades
have an elegant, but natural look in a variety of wood tones. They are available as both horizontal and vertical styles at affordable prices. Bamboo woven woods brings the look of the outdoors to interiors.
Sierra advises clients to view bright colors as a composition, not singly. One cozy nook she set up had a golden yellow upholstered chair offset by a side table with three vases in primary colors and a gold-framed mirror that picked up the gold in the chair.
Most of all, home decorators need to trust their instincts, exhibit their own style and create a well-composed design.
"Painters place colors and shapes in ways that make sense to them and where objects complement each other," she wrote on Houzz. "Look at your home as a blank canvas where you will orchestrate colors and materials in the same artistic way."
Bookmark/Share this page: