Use of glass can magnify tight quarters in a small kitchen
Oct 14 2011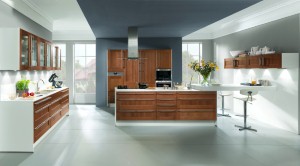 Adding glass surfaces, such as glass-paned cabinet doors, opens up a kitchen.
Mirrors and glass are not often associated with cooking and dining areas, but they can be one of the best ways to magnify the space of a small kitchen.
Glass can be incorporated into the kitchen cabinetry to display attractive dishes and cookware. There are also glass-based countertops and highly reflective glass tile available to incorporate this expansive, see-through style.
Mirrors also have a place in the kitchen either as a backsplash or as individual pieces placed around the room to lighten the look.
"One of the simplest ways of expanding a kitchen is incorporating glass, which lets you see through the objects, thereby enhancing the feeling of spaciousness or what designers call 'negative space,'" interior design columnist Mark McCauley writes on HGTV.com
Windows are an obvious place to make the most of the glass in a small kitchen, but an attractive window treatment will make them more of a focal point.
Solar screen shades
that block harmful UV rays without obstructing the view of the outdoors are an excellent choice for kitchens because they also moderate temperature. Blinds Chalet offers consumers a wide selection of weaves at affordable prices.
Bookmark/Share this page: