Roman shades are a classic look to tie into a faux headboard
Oct 12 2011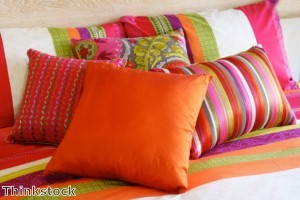 A collection of pillows can be an alternative to a traditional headboard.
For a bedroom that's limited in space, home decorators can eliminate a traditional headboard and replace it with a variety of options to create an attractive ensemble for their bed.
A faux headboard can be designed by decorating the wall around the bed, giving the illusion of a headboard by using a tapestry or quilt for a backdrop, or by painting a design on the wall that frames the bed.
A simple back board can be decorated by painting or with wallpaper for a cottage-style headboard that is coordinated with the other colors in the room. For a softer look, the board can be lined with foam and covered by fabric for an upholstered headboard that's comfortable for reading in bed.
Another approach is to install a valance high above the bed and attaching a cascade of sheer fabric that drapes down behind and alongside the bed.
Roman shades
have a softened look that ties in the room's window treatment with the faux headboard and bed linens. Blinds Chalet has a wide selection of roman shade materials and colors to suit any contemporary or traditional décor. With the company's ongoing sales and discount coupons, these classic
window coverings
are available at very affordable prices.
Bookmark/Share this page: