Solar screen shades cut sun glare, block UV rays and save energy
Oct 11 2011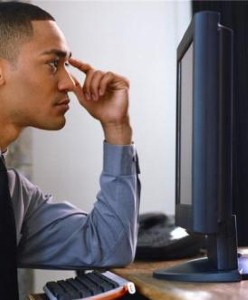 Solar screen shades reduce sun glare on computer and TV screens.
With the growing number of electronic devices in the average household, eye strain has become an issue that the right window treatment can modify.
Blinds Chalet has a wide selection of solar screen
roller shades
that save energy, as well as limit eye-straining glare on TV and computer screens. "
Solar screen shades
are excellent energy efficient shades while not blocking the view," according to the company's website. "The smaller the openness factor, the tighter the weave and the more light the shades block."
The "openness factor" ranges from 1 percent for Smart Weave shades to as much as 14 percent for Sheer Weave roller fabric. While they maintain an attractive view, unobstructed view to the outdoors when fully drawn, consumers who require total privacy should note that solar screen shades are not intended to be privacy coverings.
The energy savings offered by solar screen shades are significant because they improve both temperature and draft control in the home. In the Sheer Weave Comfortex line, a fabric-wrapped bottom rail is included.
Blinds Chalet's Tavarua sunscreen
bamboo shades
currently are being offered at a special discount beyond the usual low price provided by ongoing sales and discount coupons.
Bookmark/Share this page: