Fabric roller shades can be matched to furnishings around reading nooks
Oct 10 2011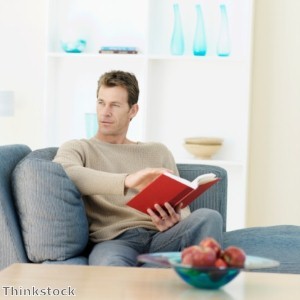 Good lighting and comfortable seating are needed for a reading area.
A reading nook can be set up in any room where it will be comfortable for the reader, but task lighting from a table lamp, wall sconce or floor lamp is a must wherever the nook is located.
According to ApartmentRatings.com, there are four ingredients for an ideal reading area - comfortable seating, good lighting, a nearby bookcase and a place to set down a snack or cup of tea. Soft, cushioned chairs or recliners are good choices as long as they offer enough back support for extended periods of sitting.
A small bookcase will provide a space for favorite books or a stack of magazines and it can also do double duty as a place to set down a beverage, a clock and a table lamp.
For natural lighting, the choice of window covering can be practical as well as attractive.
Fabric roller shades
can be matched in the colors, prints or materials of the nook and surrounding furnishings. With a wide selection available from Blinds Chalet - made affordable by ongoing sales and discount coupons - they can be incorporated into both contemporary and traditional home décor.
Bookmark/Share this page: