Signature Privacy Woven Woods Blinds offer total light and visibility control
Oct 7 2011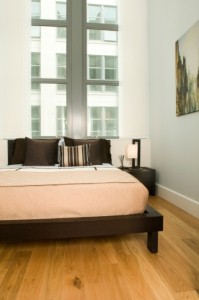 Privacy woven wood shades can be lined for total privacy and light control in rooms where these features are needed.
For a woven wood shade with the additional benefit of total privacy, Blinds Chalet offers the Signature Privacy Woven Woods line.
"Each woven wood shade has an additional matchstick woven between each bamboo slat for added privacy and appeal," states the company's website.
A privacy lining is available in all colors with coordinated binding on the edges, which is recommended to prevent the string from fraying. On outside mount shades the edge binding will add up to ¼-inch in width. Currently, free edge binding is being offered by Blinds Chalet for a limited time.
Blinds Chalet advises consumers to order samples of their
window coverings
to ensure they will coordinate well with their color and design schemes. In the case of Privacy wood blinds, there are variations in color, tone and texture, as well as differences in size and shape of slats. Order your privacy shades online today.
The wood colors have names that express various shades of brown - expresso, cappuccino, cinnamon, mocha, nutmeg, verona, carmello, rustic java and sumatra. Coordinated edge binding is available in black, white, olive and various shades of brown, off-white and beige.
Bookmark/Share this page: