Quick fixes, including new window blinds, can help a rental reflect a student's taste
Oct 3 2011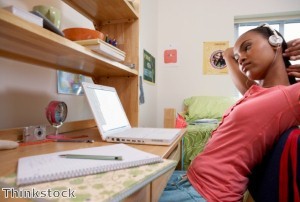 There are easy ways for students to introduce style into their rental decor.
By now, college students have unpacked their boxes - hopefully - and settled into a regular schedule of classes. But if they are renting a furnished or partly furnished apartment, they may be wondering how they will get through the year with décor that doesn't fit their taste.
They may not have to, as long as they check with their landlord first to find out what quick fixes are allowed and which are not.
For instance, most apartments have standard, off-white walls. Landlords may allow a new paint job as long as it's in a neutral color and may even agreed to something bolder as long as the student agrees to paint it over as off-white before moving day, according to NOW magazine.
"It is not only walls that can be improved with a coat of paint; if you have any old and scratched wooden furniture, stripping it down to the wood and re-varnishing can bring it back to life," the magazine advises.
Dealing with worn upholstery is even easier. There is a wide variety of slipcovers available on the market in pre-made shapes that fit every kind of seating from recliners to full-length sofas. Both contemporary and traditional styles are available in a range of colors, patterns and prints.
The same can be said about the selection of
window shades
and blinds available at Blinds Chalet, which can be customized to fit any size, shape or configuration of windows. In addition to affordable
roller shades
and
mini blinds
, there are stylish
roman shades
and energy-saving
cellular shades
that come in price levels to fit any budget. The company offers ongoing sales and discount coupons to keep the prices affordable on all its lines.
There are many other quick fixes that don't require a landlord's permission since they don't entail permanent changes of any kind. "It is possible to buy elegant paper lampshades at very low prices and these can add a great deal to the overall style of your room," according to NOW.
Area rugs achieve a simple update for flooring that is scuffed or worn, and have the added advantage of creating different sections for dining, relaxing or activities based on how the rugs are placed around a room.
And the best part of such changes is that they reflect the taste of the student renting the apartment and can go with them when they move on to their next apartment.
Bookmark/Share this page: