UK designers see recession's effect on home decoration styles as well as budgets
Sep 29 2011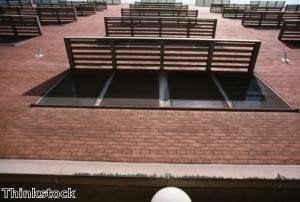 Solar panels are among the "green' energy-saving devices that homeowners want in their home designs.
The recession has taken a toll not only on homeowners' decorating budgets, but has shifted their design style, according to UK designers and architects interviewed by the Daily Telegraph.
"People are not wanting to make expressions of extravagance in the same way," Hugo Tugman of Architect Your Home told the newspaper. "I am glad to say we have stepped back from the brink of bling."
Now, designers are finding that their clients expect green construction, sustainable materials and energy-saving features to be automatic when they order home renovations. All-glass additions that were popular pre-recession have increasingly given way to solid construction with large windows and glass doors instead.
"In 2007 it would only have been a really interested person who would ask about carbon efficiency," said architect Meredith Boyles when he was interviewed by the Telegraph. "Now everyone expects it."
Interior finishes are less flashy, and UK designers have seen some surprising turn-arounds in their clients' choices for kitchen décor. They say that stainless steel is waning in favor of rustic-looking wood coverings for appliances. Granite is also losing favor as customers choose more composite materials such as Corian.
In flooring and other wood construction, lighter stains have gained favor over dark stains, which generally are more expensive and more difficult to maintain. "What people want is a very natural look," Lindsay Cuthill, a director of estate agents Savills, told the newspaper. "Very heavy stains are now out of fashion."
Along with sustainably sourced woods, customers have shown a renewed interest in man-made fibers for carpeting rather than higher end silk and wool combinations.
In
window treatments
, interior designer Debra McQuin said she is seeing an individualized look overtake neutral blinds and simple
curtains
. That's in keeping with the customized
window blinds and shades
offered by Blinds Chalet, which has a wide selection of colors, finishes and materials that consumers can choose to create a distinctive look for their home windows. The company's ongoing sales and discount coupons keep the prices affordable for every budget.
Soft neutrals for walls have been replaced by industrial shades of gray, the return of bold colors - particularly bright yellow - and geometric patterns in wallpaper. "At the start of the century, people were terrified of color, but over the last couple of years we have seen them start to use it in big blocks," said Joa Studholme, color consultant at Farrow and Ball.
Bookmark/Share this page: