Shutters offer insulation and light control as well as style to fit many decors
Sep 28 2011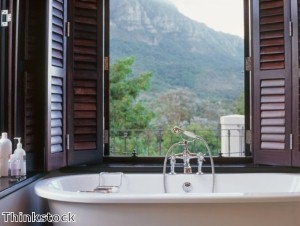 Shutters fit both contemporary and traditional decor in any room.
Shutters
are often associated with traditional décor, from seaside cottages to Tuscan villas, but their clean, uncomplicated look also is well suited to contemporary design.
In its line of plantation shutters, Blinds Chalet has a product that insulates against the elements and are made from materals - composite and vinyl - that resist chipping, changes in their shape and discoloration. The composite version is made from hardwood and strong thermal polymers, but both composite and vinyl shutters are finished to look like real wood.
"Each plantation shutter is designed with a patented spring-loaded panel design and a classic tilt bar with no 'mouse holes.' This allows each louver to close tighter and minimize any light gaps for added light control and privacy," according to the company's website.
Blinds Chalet's shutters are available in white and off-white, which are the most commonly used shutter colors in cottage décor, as well as a range of wood stains that include honey maple, golden oak and cherry.
Consumers can order free samples of Blinds Chalet's shutters to match colors for their home designs, and will receive a discount coupon for substantial savings with each sample.
Bookmark/Share this page: