Eco-friendly shades and work areas are among new additions to kitchens
Sep 23 2011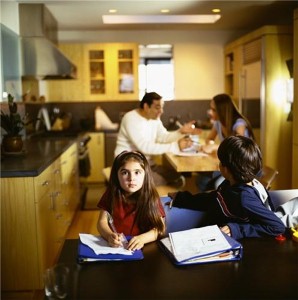 An area where kids can do homework or a parent can work on a laptop can be added to the kitchen.
With the kitchen often at the heart of family activities, setting aside a desk area can be a convenient place for bill paying, doing homework and working on a laptop.
According to OldHouse.com, homeowners can get a lot of use from a desk extension at the end of a long countertop. When more room is needed for kitchen duties, paperwork and supplies can be whisked into a drawer installed under the countertop.
"They can use it as a staging area for a buffet or to roll out a pie crust," interior designer Connie Edwards told the website.
In kitchens where cabinetry fills all the space, a bottom cabinet that isn't used much can be removed. A drawer and end panel can be constructed on both sides of the knee hole for support. A stool can be stored underneath.
Other new additions to kitchen décor include the wide selection of
window blinds and shades
that are available to coordinate with cabinets and various color schemes.
Bamboo shades
are among the woven woods that have become popular because of their eco-friendly material and stylish look. Blinds Chalet carries a varied line that includes sunscreen bamboo shades that are currently being offered at a special discount.
Bookmark/Share this page: