Fabric roller shades are a good choice for decorating bathrooms
Sep 22 2011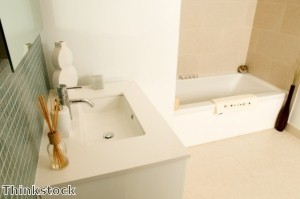 Mirrors and monochromatic color schemes give a sense of spaciousness to smaller bathrooms.
Bringing as much light as possible into a small bathroom can help create the illusion of more space in cramped quarters.
Easy ways to accomplish this include using mirrors to reflect light and volume or painting the bathroom in a monochromatic color scheme, according to TrendsIdeas.com.
"Painting the walls and ceiling in white was one design move that helped expand the space visually," designer Nicola Manning told the website about one bathroom makeover she created. "A white back-painted glass backsplash behind the bath and vanity contributed to this and brought in more reflected light."
Adding a window treatment that brings in natural light and can be adjusted for privacy is another method.
Fabric roller shades
can be matched to any décor with the wide selection of colors, patterns and prints available from Blinds Chalet.
When fully drawn, they offer complete privacy, but can be raised for sunlight when privacy isn't needed. They also come in a range of materials that stand up well to moisture that accumulates in the bathroom.
While using a monochromatic broadens the space, it shouldn't be overpowering. Using dark wood flooring or an interesting floor tile pattern breaks up the color pattern of the room.
Bookmark/Share this page: