Affordable mini blinds complement organized book shelves
Sep 21 2011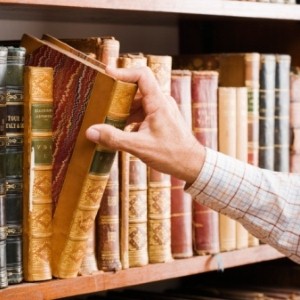 Homeowners can organize their book collectons by subject, alphabetically or by color.
Book-loving homeowners have a variety of ways by which they can organize their volumes and prevent stacks of well-loved books from turning into clutter.
Organizing the volumes may be done alphabetically, by subject or genre or even color. It may be best to separate hardcovers from paperbacks for aesthetic appeal. Also, lining up two rows of paperbacks, with taller ones in the back row, doubles the storage on one shelf.
Children's books should be on lower shelves so a child can reach them easily. For both kids and adults, photographs or personal items can be added in front or alongside books to create a personalized arrangement.
According to HomeDesigning.com, the amount of space available will determine which type of shelving is best - built-ins with floor-to-ceiling storage, mounted shelving that allows adjustment for shelf height or glassed-in book cases that preserve older books.
Mini blinds
from Blinds Chalet are an affordable choice for
window coverings
located near book shelves. To protect books from sunlight damage, they can be tilted to limit the amount of light cast on bindings. Currently, Blinds Chalet is offering one free set of its Classic line of mini blinds for every three sets purchased.
Bookmark/Share this page: