Extra living space may lie in an attic renovation
Sep 21 2011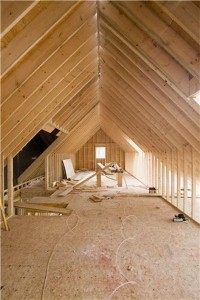 Expanding living space by renovating an attic requires strict adherence to building codes.
Those who dream of adding a cozy space for relaxation and hobbies in their home should look upward because an unfinished attic may be just the place to make those dreams come true.
Before homeowners embark on enlarging their living space above, they need to consider construction that meets building codes in an attic renovation.
According to ThisOldHouse.com, the first requirement is to have a full-size staircase for entering and leaving the new space, with a minimum 6-foot, 8-inch clearance overhead. A second way out, which can be a window, is also needed for fire safety.
The rest of the living area must have at least 7 feet of headroom, although sections of the attic that have lower clearance can be used for storage.
Another consideration is the floor support, since attics in newer homes aren't built for living space. As a result, attic floors need to be reinforced with added joists and a new subfloor.
Noise reduction shades will help insulate the space from outdoor sounds as well as those coming from other parts of the house. Some of the sound-insulating
cell shades
sold by Blinds Chalet currently offer an upgrade to
top down bottom up shades
for free.
Bookmark/Share this page: