Homeowners can change a dated bathroom's style into a vintage look
Sep 19 2011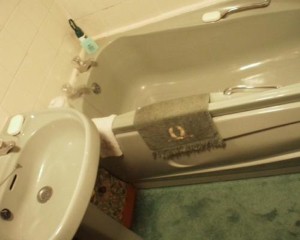 Small improvements can give a dated bathroom a fresh look.
Whether a bathroom looks dated or vintage may be in the eye of the beholder. And there are small improvements that homeowners can do that breathe new life into a tired bathroom on a limited budget to play up "vintage" and get rid of "dated."
HGTV advises homeowners to focus on a color palette that will play into this theme, such as adding accessories that are reminiscent of a previous era or changing the hardware on bathroom cabinetry to enhance the style.
To give bathrooms a warmer look, homeowners can add texture to the walls by hanging fabric rather than wallpaper, the website suggests. Soaking fabric in liquid starch will cause it to adhere to the wall easily, which can later be removed just as easily with water and a sponge.
Another way to layer texture into the design scheme is to add
roman shades
, which are available from Blinds Chalet in a variety of colors, fabrics and patterns. As long as the fabric chosen is one that will do well in a moist environment, they can be a stylish window treatment for the bath. With ongoing sales, Blinds Chalet also offer its selections at affordable prices.
Bookmark/Share this page: