Homeowners shouldn't overlook their ceilings in a design scheme
Sep 13 2011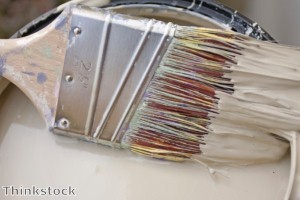 Continuing a neutral wall color onto the ceiling is one way to integrate it into a room's design scheme.
Home decorators often overlook a "fifth wall" in their rooms - the ceiling - but there's no reason it needs to be left out of the color scheme used for its companion walls.
Including the ceiling by choosing a beautiful color, or continuing a design used elsewhere in the room, will give a finished, professional look that doesn't have to end at ground level, HGTV reports.
"When designing spaces, think of the entire room three-dimensionally. If left untreated or ignored, then the emphasis will be on the ceiling," Nashville interior designer Beth Haley told the website. "It will become the big white elephant. The ceiling should be the icing on the cake."
Generally, a bright white ceiling works well in a room with modern architecture or when used to match white doors and window trims. But in other cases, many interior designers agree that brightness draws attention to the ceiling in a way that doesn't meld naturally with the rest of the room.
Continuing the wall color onto the ceiling is especially effective where there is no crown molding installed to act as a transition, reports Hamptons.com.
"A great thing to do in a room without crown molding is to paint the walls and ceiling the same color," home design consultant Cindy Lee Bergersen told the website. "Without the distraction of a color shift, the walls will seem higher. It's a seamless room without borders."
Another element related to the ceiling are the windows that are closest to it, particularly in cathedral-style rooms. In such cases, homeowners may want to add some architectural interest, and no window treatment is better for that than wood cornices and valances.
Either by themselves or with a blind or shade, the cornices from Blinds Chalet are available painted or in any wood stain of the customer's choice to coordinate with existing furniture and room trim. Available now at 30 percent off, they come in the simpler lines of the company's signature line or homeowners can choose from several styles within the platinum cornice selection.
In a room where there are high walls with several windows with varying dimensions, Bergerson suggests that
custom drapery
can correct this imbalance by making the
drapery
panel lengths consistent. Using the same fabric on windows that are too small or inconveniently located also works to tie
window treatments
together in a unified look.
Bookmark/Share this page: