Teen's room should have paint color and furnishings that have staying power
Sep 8 2011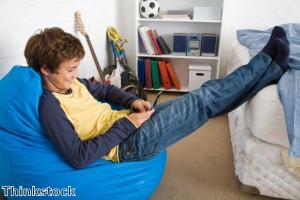 Making the transition from child to teen room can show as much style for boys as for girls.
Decorating for the long term in a teenager's room may seem like a contradiction since the years fly by quickly. But choosing classic patterns and versatile colors during the adolescent stage will likely have staying power as the teen years progress.
Navy, deep brown or hunter green set off by traditional plaids is a good look for a boy's room, while a delicate floral motif a la Laura Ashley is a favorite with many girls. For the teenager with an avant garde streak, stripes and jewel tones may be the thing.
In any case, stay away from neon or any super bright colors that will wear out their welcome very quickly. As color consultant Paula Pavlik-Douglas told the Detroit Free Press, teenagers should have a choice of toned-down basic colors that will have a longer shelf life.
According to the newspaper, deciding on a color scheme is easier when bedding and accents are picked out first, then backed by a complementary wall color. Parents should also choose wall paint that can stand up to constant changes in posters and photo displays.
Most of all, design experts say to involve pre-teens and teenagers in the design of their rooms. "As kids grow up, it is really important to enable them to make decisions regarding the colors and décor in their room," Aimee Beatty, Pier 1 Imports' in-house stylist, told the newspaper. "It is an opportunity for them to express their individuality."
A bedroom ensemble should include a window treatment that also works well as a backdrop for changing wall displays.
Roman shades
from Blinds Chalet have a classic look that goes with contemporary and traditional furnishings and isn't strongly masculine or feminine so they will work for both girls and boys. Soft
sheer shades
have a subdued, but sophisticated style that will weather changes in taste as the young occupants grow.
Repurposing furniture with a paint job and new hardware can give childhood furnishings a grown-up look that will carry into late teen years. Parents should also consider adding storage as a young adult's collections, sporting equipment and school-related items multiply.
"Kids can outgrow the types of storage containers or dressers in the room and even closet space," according to Jen King, a public relations manager at Home Depot. "It might be time to put in a new closet system and add some fun, decorative storage cubes."
Bookmark/Share this page: