Bright whites and complementary colors keep the look of summer alive all
Aug 31 2011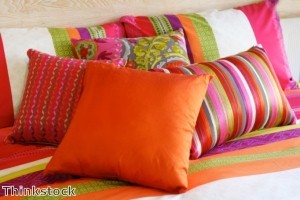 Bold colors offset by white can be used all year in home decorating to give a house a year-round summery look.
The bright whites and bold colors of summertime don't have to disappear when the warm weather ends.
There are a number of ways in which home decorators can keep the look of summer alive in their houses throughout the year, starting with their use of white and complementary colors.
"In an otherwise sedate space, adding some whimsy with an over-sized wingback chair in a bold, colorful pattern can liven and brighten up a room," said Atlanta interior designer Amy Gleghorn in a statement.
The same approach can be taken with
window coverings
, with white used in shades or blinds paired with colorful
curtains
or
custom drapery
. With so many colors available in
window blinds
or shades from Blinds Chalet, the opposite can be tried as well with white or off-white
drapery
.
Soft
sheer shades
in white provide an elegant backdrop for any number of colorful curtains, but also have the light and airy feel of summer when used by themselves. They are currently available from Blinds Chalet at a 30 percent reduction.
"Normally made from a nylon and polyester blend, soft sheer shades are not only beautiful, they are also durable," according to the Blinds Chalet website. "Additionally, these
window treatments
allow just the right amount of light in the home, creating a relaxing ambiance."
Other lighting options including using different colored bulbs, recessed down lights and lamps on dimmers, Gleghorn suggested.
As in all decorating jobs, painting is the most affordable tool to create a new look. Painting rooms in summery colors also keep the season's spirit going all year. In the bathroom, decorative colors can be offset with white towels to create a spa atmosphere.
Bringing summer into the bedroom is achieved by focusing on the bed ensemble. "Replace existing bedding with a white duvet, along with a plush down insert," said Gleghorn. "Add fun, colorful toss pillows that can be changed easily with your mood or seasonally."
A large, upholstered headboard framed in wood is one way to convey the lightness of summer as part of an affordable room re-do. It can be done in white or another neutral to reflect the white bedding or contrast it with a bold statement of color that picks up the hues of the pillows.
"[It] gives your room a focal point and mimics what a lot of designers are specifying for boutique hotel rooms today," said Gleghorn.
Bookmark/Share this page: