Roman shades give a student's dorm room instant style
Aug 22 2011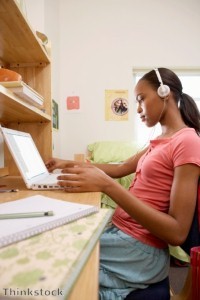 Using roman shades in a college dorm room personalizes the decor.
As the start of the new school year approaches, college students are thinking of ways to outfit their dorm rooms into a comfortable place to unwind from the stresses of collegiate life.
One of the ways to do that is to upgrade the look from traditional dorm space. For instance, replacing college-issued
window treatments
with
roman shades
adds a sophisticated look that will complement any décor of the student's choice.
"Roman shades are a classic timeless look for your windows," according to the company's website. "Light filtering roman shades allow a soft ambient light to enter your home and still give you total privacy."
Other ways to create an attractive room for studying as well as socializing is to choose a task lamp that prevents eye strain during reading or computer use, but will also cast a softer look on the room during relaxation time, recommends RentalDecorating.com.
"The bed often doubles as a coffee table, couch, or study area and is the largest piece of furniture in most dorm rooms, so it's key to choose a comforter that reflects your style and won't immediately show dirt," the website states. "Finding a comforter you like will also help determine the color scheme for the rest of the room."
Bookmark/Share this page: