Re-doing a home's entry should be from floor to ceiling
Aug 19 2011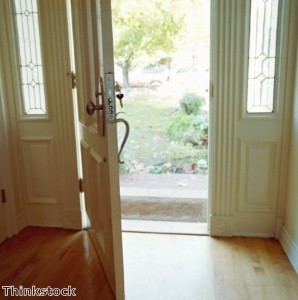 Sprucing up a foyer creates a good first impression for a home.
A home's entry is the "first impression" for those who walk through the front door, so homeowners should take steps to make sure that initial appearance is a positive one.
Making changes with a minimum of fuss and a maximum impact doesn't have to be expensive, according to decorating tips offered by the Washington Post.
Particularly when the foyer has some height, a large hanging light that will cast a soft glow should be installed to make the best impact in the space. It also meets a functional need to light what may be a dark interior near the door.
Another focal point can be a salon-style wall of striking art work or photographs that showcase a homeowner's special interests.
In entries that have windows, part of the design should include a window treatment that ties in with the nearest room by incorporating colors or materials that are found there. The right choice will also allow in light and control privacy as needed.
Soft
sheer shades
, now available in room darkening materials from Blinds Chalet, are a good choice for a foyer window. They have the look and feel of soft fabric shades but the functionality of a horizontal blind. The shades can be tilted for filtered light or raised for a full outdoors view.
"There are plenty of things that you can do to your home to create that luxurious yet comfortable atmosphere," according to the company's website. "To create a certain mood in any room, soft sheer shades could be the perfect addition.
The Post also addressed how to deal with less than ideal flooring in the entryway, because it often becomes worn from the traffic going in and out of the house. Stairs carpeted in a light color should be replaced with a shade that will not show dirt. Or a natural material such as seagrass carpeting can be installed over existing floors and is sturdy enough to stand up to frequent trips.
An inexpensive way to spruce up stairs that are not high-quality hardwood is a paint job. Deck paint has extra durability and can also be covered with a seagrass carpet for a fresh, contemporary runner.
Repainting the walls and trim in a foyer gives it an instant makeover and frequently brightens an otherwise darkened space, the newspaper reported. A bold color for the front door with new hardware often sharpens the look of an entry from the outside.
Bookmark/Share this page: