Opt for a set of Embassy Mini Blinds in red for a pop of color
Aug 18 2011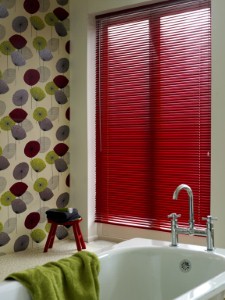 Go for red blinds for a pop of color.
In a contemporary setting, neutral colors like white and black always reign supreme. However, too much of this can end up being bland and uninspired. There are times when all a room needs is a pop of color, whether with a wall accent or a piece of décor. Color can also be used with the
window treatments
, giving interest to the windows when the blinds are down.
If you're planning on purchasing window treatments for your home, why not make it a set of Embassy
Mini Blinds
in red from Blinds Chalet? The contemporary nature of the
aluminum blinds
adds to the modern appeal, but the rich crimson color creates a huge impact that will undoubtedly not go unnoticed.
Besides the gorgeous hue of these aluminum blinds, their practicality is also unmatched. Gaining privacy is as easy as pulling the cord down. Pull it once again and the blinds will instantly pile up, allowing enough natural illumination to shine right into your abode.
Bookmark/Share this page: