Bring a minimalist feel into any room with Tavarua Woven Wood Shades
Aug 18 2011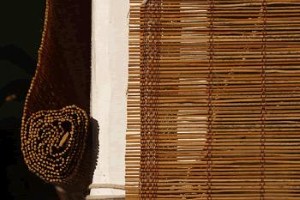 Use Tavarua Woven Wood Shades for a minimal look in any room.
Plenty of people prefer a beautiful home with a variety of decors and knickknacks. In a traditional setting, you can find armoires and cabinets filled with a plethora of objects and collectibles. However, there are others who would rather have a minimalist home free of clutter and other objects. If you're one of the many who prefer a simple look when it comes to your
window treatments
, you might want to check out Tavarua
Woven Wood Shades
from Blinds Chalet.
Created from durable bamboos, these window treatments are bound to add a contemporary and organic look to any room. The warm brown hues of the
wood shades
create just the right visual appeal without overpowering the rest of your décor. At the same time, you can even play them up by adding a layer of
drapery
on top of them.
Besides their understated beauty, Tavarua Woven Wood Shades are also practical additions to any room. These window treatments are easy enough to pull down for privacy or up if you wish to let some sunshine in.
Bookmark/Share this page: