Cleaner lines can be found in eco-friendly window coverings
Aug 15 2011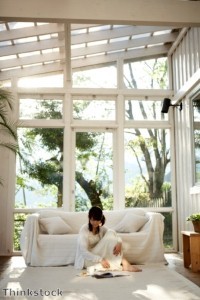 Clean, uncluttered lines in decor is an emerging design trend.
As New York interior designer Stephen Sills sees it, the days of accumulating "stuff" are over, and the overall look of a room is what counts.
"New trends are emerging - cleaner, more spiritual, thought-provoking," Sills told the Wall Street Journal. "My signature touches are subtle color schemes and classic, simple upholstery. I do tone-on-tone monochromatic but then at the end I'll throw in an off color to give it energy and mix it up."
In line with Sills' view that cleaner, thought-provoking design is becoming prevalent is the use of eco-friendly materials and energy-efficient designs in
window treatments
.
Cellular shades
from Blinds Chalet are a good choice for energy savings, because they offer extra insulation from window drafts and strong sunlight. They come as both
single cell shades
or
double cell shades
, with double cells providing more insulation for rooms that need additional protection from the elements.
Choosing such window treatments help keep homeowners from committing what Sills considers the biggest decorating mistake - overdecorating.
"Design isn't about stuff anymore. Young people aren't interested in provenance or the perfect pair of antique lamps," he told the newspaper. "I love the 19th century but we're not living in the 19th century."
Bookmark/Share this page: