Window coverings can bring a spurt of color to a neutral or white design palette
Aug 8 2011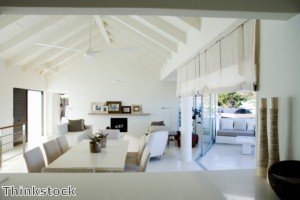 Window treatments can add color to an all-white decorating palette.
Calm and comfortable should be the aim of home decorators who want to make their house or apartment truly feel like home, according to UK interior designer Atlanta Bartlett.
"It's all about getting back to basics, tapping into your own style, editing your possessions so you retain only what's useful and beautiful," she told the Manchester Evening News. "Then you can live in an environment that's calm and unpretentious."
Don't go too stark, she warns. An all-white decorating can be cutting edge or homey, depending on the furnishings chosen, but it needs to have some infusion of color through accessories,
window coverings
or cushions.
That addition of color can come from a stylish roman shade from Blinds Chalet, where materials include suede, satin and textured linen.
Roman shades
, and several types of blinds are currently available on a special offer of one free blind for every three blinds purchased.
Bartlett also suggested that homeowners be creative when planning their storage in a kitchen. Instead of only cabinets, an antique dresser or hutch can be transformed into kitchen shelving for displaying china and platters with drawers to store linens and infrequently used utensils.
The inside of cabinets can also be painted to offer an unexpected contrast to the exterior cabinet finish.
Bookmark/Share this page: