Installing mini blinds in a traditional setting
Aug 1 2011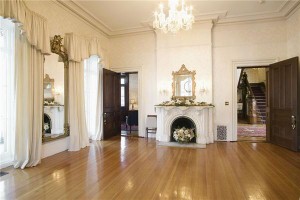 A traditional living room still needs some window treatment like mini blinds.
A traditional room is often filled with a collection of time-worn pieces and beautifully detailed décor that evokes a different time and place. Installing
mini blinds
in a room with a traditional setting may not seem like a good idea at first, but you'll likely be surprised, especially with Blinds Chalet's collection of durable, yet reasonable offerings.
According to HGTV, a traditional aesthetic is composed of styles like the British Colonial Revival, 18th century British and French country, characterized by the use of warm wood tones and deep rich colors, creating a comfortable yet sophisticated atmosphere. This description alone is the complete opposite of most contemporary mini blind designs, but that doesn't mean you can't find a set that will complement a traditional aesthetic.
Aluminum blinds
with a faux wood finish, for instance, are great additions that will accentuate your other wood pieces in the room. At the same time, a set of white mini blinds can easily blend in with a neutral wall - you can even play it up with the right
drapery
. Not only are these
window treatments
beautiful additions to the room, they are also highly practical.
Bookmark/Share this page: