Honeycomb shades add to the striped look in a stripes-based design
Jul 28 2011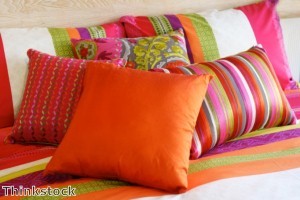 Stripes can be mixed with different patterns in a home design scheme.
Using stripes in a room, whether in bold colors or by the use of accordian-style
honeycomb shades
, doesn't have to limit the use of other patterns or mixing different types of stripes together.
According to CasaSugar.com, any number of combinations with stripes are possible without going over the top. One combo featured on the website shows an upholstered chair in the same stripes as the wallpaper in the same room, which was given some depth by the addition of pillows in another color.
Stripes don't have to be bright and bold to be effective. In a monochromatic scheme, they can add texture as well as pattern and be an effective backdrop to artwork.
The illusion of stripes can be achieved in different types of
window shades
or blinds. Accordian-style honeycomb shades creates this look beautifully and has the added benefit of saving energy with its unique construction, which traps air to conserve heat in winter and cool down hot rooms in summer.
Solid colors can be used to unify different patterns with stripes, while the patterned fabrics can be outfitted on a variety of accessories from lampshades to seat cushions. In a bedroom, the combination can be of bedding, pillows and
window treatments
.
Bookmark/Share this page: