Complete a home office with vertical blinds
Jun 30 2010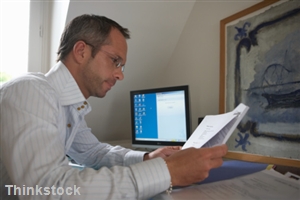 Complete a home office with vertical blinds
Many people now work from home or have to continue working once they get home. The best way to separate the work world from home, according to MarthaStewart.com, is to find a small room or area to convert into an office.
These offices don't need to be large. In fact, they can be very economical with the right touch, since little more than a cleared closet or dead-end hallway is necessary. A child's desk can often be set up underneath a bunk bed or a bed on a loft.
One of the top recommendations from the news source is to find a way to appropriately store all of your office supplies. This can be a small bureau or desk and, if you need space for smaller items, try using a spice box to keep paper clips and staples organized.
Another important feature of a home office is something that keeps electric cords organized, especially if there isn't much space. The website suggests that this can be accomplished by hanging a plastic basket from the bottom of the desk and looping all the cords through the brackets.
Vertical blinds
or bamboo sliding panels can complete the divide between work and leisure. These can easily be attached to sliding glass doors or other entryways for a home office that requires that final border.
Bookmark/Share this page: