Energy-saving cellular blinds arean attractive addition to a basement re-do
Jul 25 2011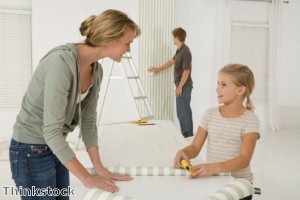 Energy-saving window treatments are a good addition to windows in a basement renovation.
Cellular blinds
can add a stylish look as well as energy savings when homeowners are considering a makeover of their basement into extended family space. These
window treatments
, which help conserve heat in winter and cool down hot rooms in summer, come in a variety of colors that can be matched to contemporary or traditional decor.
Because lighting may be limited in a basement, Better Homes and Gardens magazine suggests enhancing a below ground window by creating a window well that will bring in additional light.
"The retaining wall for the well may be made of masonry, limestone blocks, or treated landscape timbers," stated the magazine. One example is to create a terraced wall outside the window that creates a garden view with a series of steps for outdoor container plants.
Providing as much flexibility as possible for furniture arrangement and storage - including the "dead" space under stairs - allows the best use of a livable basement space.
"Choose comfortable furnishings that can be easily rearranged to accommodate a few people or a crowd," according to the magazine. "As you remodel to make the most of your basement's square footage, plan for attractive, well-designed storage, too.
Bookmark/Share this page: