Mini blinds can be a versatile and practical addition to a college dorm room
Jul 26 2011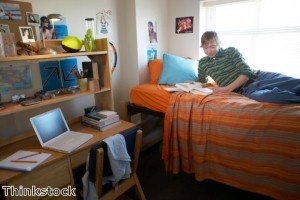 Students should consider window treatments in their dorm rooms that will lessen glare on their computers.
As students begin planning their move back to college in the fall, they need to take stock of the furnishings and accessories that will help them create a home away from home.
The choice of
window treatments
, for instance, should complement the overall look of the room as well as help manage light that can cause glare on a computer screen.
Mini blinds
can be shut entirely to eliminate glare or opened in degrees depending on how much light or privacy may be needed at other times. They are an affordable window treatment that comes in a wide range of colors to complement a student room.
For additional lighting, a desk or task lamp is necessary to prevent eye strain during reading or computer use, but a floor lamp will cast a softer glow in the room.
A bed ensemble can also set the color scheme of the dorm space and should be chosen for durability as well as style.
"The bed often doubles as a coffee table, couch, or study area and is the largest piece of furniture in most dorm rooms, so it's key to choose a comforter that reflects your style and won't immediately show dirt," advises RentalDecorating.com.
Bookmark/Share this page: