Bamboo shades are useful for both outdoor and inside spaces
Jul 21 2011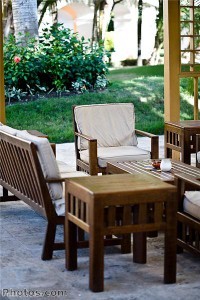 Homeowners should plan out how their outdoor spaces will be used before starting a design scheme for them.
Bamboo shades
can have a useful place outdoors as well as within any room in the house. With their natural color and varieated look, they are an ideal fit with greenery and patio furnishings.
"Exterior spaces are just as much in need of decorating as interior spaces," HGTV interior design Sabrina Soto told the Augusta Gazette.
The outdoor use of
window shades
is one way to shield a patio or deck from bright sunlight by attaching the shade to the sides of an open-air gazebo or along a railing.
When Soto plans an outdoor living area, she views the space as an extension of the home's interior and designs it according to how it will be used by family members and visitors. Benches and chairs, for instance can be used for al fresco dining, as a conversational corner or as seating during family activities, such as board games.
According to the newspaper, cushions can provide flashes of color against neutral furniture pieces. For a tropical scheme, home decorators can combine various shades of green, turquoise and yellow. For a more subdued palette, the accessory colors can be deeper, jewel tones.
Soto also recommends using planters and lighting from lanterns or string lights to create a special ambiance for outdoor areas.
Bookmark/Share this page: