Simple roller shades can spark creativity in a home design
Jul 19 2011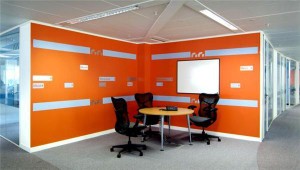 Unique designs were shown at a recent NeoCon interiors show in Chicago.
Home decorators who are trying to decide on a new room design or window treatment – from
mini blinds
or
roller shades
- should look to the Savannah College of Art and Design for inspiration.]
The SCAD booth at the recent interiors show NeoCon - National Exposition of Contract Furnishings - in Chicago used both staff designs and student projects in furniture, metals, jewelry and fiber arts. The display won in the category for spaces with less than 400 square feet.
"It was really neat - the booth was very energetic, youthful, interesting to look at," judge and interior designer Ashley Handley told the Savannah Morning News.
Featured in the SCAD booth was a bench and bicycle rack using Corian to show that a material that can be shaped, bent and formed can be incorporated into furniture. The college's display was among those from more than 700 showrooms and exhibitors of trends in residential, commercial and institutional design.
Homeowners can employ the same creativity by selecting
window treatments
that are both attractive and functional. For instance,
fabric roller shades
can can be customized to coordinate with the colors, patterns and prints within a room.
Bookmark/Share this page: