Simple roller shades or window blinds can fit a room taken from the Big Screen
Jul 18 2011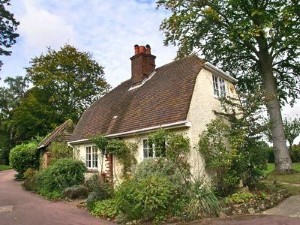 The cottage-style homes featured in the Harry Potter movies can inspire home decorators in their design choices.
Home decorators have often looked at movies that feature beautiful homes and apartments as an inspiration for their own version of what they see on the Big Screen.
The Harry Potter films may seem an unlikely source, but the best of the francise's settings can also lend some help in room design. The Dursley home, where Harry lived with relatives, is an example of English cottage design, although decorators caution home decorators to use more restraint than what's shown in the film.
"Opt instead for a simple sage or a delicate baby blue as your base shade," recommends SheKnows.com. "For furniture, incorporate ladderback chairs, spindle leg tables and curio cabinets. Add in pops of warm color to the cool palette with pastoral pictures and floral arrangements. Remember, this country look is anything but casual, so keep the décor simple, clean and slightly formal."
Cottage decorating can also lean toward a rustic slant with fewer feminine touches, such as raw wood end tables and tin storage containers.
Window coverings
are generally light-colored and simple -
roller shades
,
window blinds
,
shutters
- but they can take on a more natural look with
bamboo shades
or
wood blinds
.
In another example from the Potter movies, the lively home of Ron Weazley and his large family - called the Burrow - has the beginnings of an eclectic chic look, but homeowners should aim for real life appeal by incorporating comfort and function without losing the uniqueness of the space.
"This look demands diversity in design styles, so forget finding matching sets or patterns and instead pick pieces that complement one another," states the website. "Comfort and function are absolutely essential when selecting pieces to capture this look, but so is uniqueness."
That means choosing a window treatment that also has a stylish, but practical edge.
Honeycomb shades
, for instance, are an energy-saving choice that traps air to conserve heat in winter and cool down hot rooms in summer. The shades are available in a variety of colors that can be matched to a contemporary or a traditional decor.
The opulence and architectural splendor of Hogwarts leader Albus Dumbledore's study can be toned-down for home use. But some of its prominent features - book-lined walls, gilt-framed mirrors and classical art work - can capture some of the character of the headmaster's office. Adding an old steamtrunk for a coffee table is another way to continue the theme.
Bookmark/Share this page: