Give your space new life
Jul 11 2011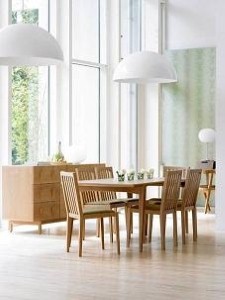 Give your space new life
Dining rooms can be a tricky place to decorate, as you've probably been told that you need to have a formal place to dine - uppity furniture and
window treatments
that look luxurious and rich. But who says it has to be this way? Why can't you create an eating area that is both functional and classic with your own twist?
The style experts at House Beautiful believe that you can have your cake and eat it too, as you think of ways to spruce up that boring old lifeless room. One way to majorly enhance your room and make it more inviting is to paint an accent wall. Use this wall as a place to express your personality, whether it's by painting it bold red, a warm blue or any color in between. You could also use a fabulous patterned wallpaper if you want to take your look further. If you prefer something more modern, accent with window treatments like
woven blinds
or
wood blinds
that come in a number of styles and finishes to look fresh and updated.
Keep the room bright and airy by adding fresh flowers that will create a shabby chic feel, making it seem more inviting. Add some of your favorite and most personal trinkets you've collected over the years to further breathe a relaxed attitude into the space for a final touch. You'll end up with a room that can be just as easily used for doing homework as it is for entertaining guests.
Bookmark/Share this page: