Search Results For: energy saving
20 Matches
Window Coverings
Common Questions for "Energy Saving"
How To's for "Energy Saving"
Measure Window Shades or Blinds for Tile or Moulding
Occasionally obstructions can get in the way of window shades or blinds such as wood moulding or a tile back splash. Cut-outs can be made in the blind or shade for proper clearance in these areas. There is a surcharge for each cut made....
more
How to Measure Vertical Blinds for Sliding Glass Doors
When measuring window blinds for
sliding glass doors
it is important that you measure the blind to fit as on OUTSIDE mount. Vertical blinds are a common window treatment for sliders. More times than not there is not enough depth in a window to mount
vertical blinds
inside the window frame. Often there is Moulding encasing the window and your measurement must allow for it. A common rule of thumb is to ADD 2 inches to the length of the vertical blind. In other words measure from the floor to 2 inches above the moulding. If you have no moulding measure from the floor to 2 inches above the top of the opening....
more
Blinds for Angled Top Windows
Blinds
or shades can be difficult to find for angled top windows. A few manufacturers make window blinds or shades with angled headrails for this purpose. Another option is to leave the angled top of the window open and just mount the window blinds or shades with the headrail just before the angled portion of the window. This article will discuss how to the the later....
more
How to Measure Window Blinds for Bay Windows
When measuring
window blinds for bay windows
, you will need calculate the intersecting points of the blinds to determine the width of each piece. The first step is to select a window shade noting that different types of shades will have different depths. Once you have selected the blinds or shades, you will be able to get the depth you need to calculate the intersection point. See the product specifications for exact depths....
more
Measuring Roller Shades
Each
roller shades
comes with a cord lift. The side in which the lift cord is located will have a gap to allow room for the lift.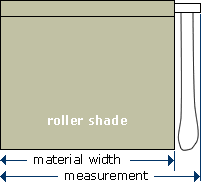 The measurement will be the tip to tip measurement and will take into account the width of the controls....
more
Vertical Blinds Stack Height
When
vertical blinds
are drawn, the open vanes gather together forming a "stack" on one side of the window. The size of the vertical blinds stack will vary and is directly proportional to the width of the
window blinds
. The wider the window blinds are, the more vanes the blinds have and the more room the stack will take up....
more
Parts for Installing Horizontal Window Blinds
Below is a list of parts that are used when installing horizontal blinds. Note: You may not receive all the parts listed. You may also receive additional parts that are not needed. We will only send you the horizontal blinds parts for your particular application....
more
Vertical Blinds - Parts for Installing
Below is a list of parts that are used when installing vertical blinds. Note: You may not receive all the vertical blinds parts listed. We will send you the parts you need to install your vertical blinds....
more
News Articles for "Energy Saving"

Designer solar screen shades work well in both business and residential settings
Nov 21 2011
Designer solar screen shades by Blinds Chalet give consumers a choice in weave, pattern and color to find the best match for their home décor.

Light-filtering and room-darkening options are available for skylight shades
Nov 17 2011
Pleated shades designed for skylights provide superb energy savings by reducing heat gain in warm months and lessening heat loss significantly in cold weather.

Deluxe double cell blackout shades combine energy savings and light control
Nov 4 2011
A cellular shade that combines energy savings with optimum light control to darken a room is available in one of Blinds Chalet's wide variety of cell shade selections.

Constructed for privacy, pleated shades can be outfitted to many window sizes
Oct 31 2011
Choosing the right window treatment for a particular space means considering the amount of light, privacy, energy savings and ease of care that is needed.

Cellular shades are a good choice when redecorating a bathroom
Oct 19 2011
With some imagination, home decorators can bring a vintage look to their bathrooms without breaking the household budget.

ComforTrack cell shade offers insulation and blackout fabric
Oct 17 2011
Cellular shades are a good choice for energy savings, because they offer good insulation from window drafts and strong sunlight. They come as both single cell shades or double cell shades, with double cells offering more insulation for rooms that need more protection from the elements.

Solar screen shades cut sun glare, block UV rays and save energy
Oct 11 2011
With the growing number of electronic devices in the average household, eye strain has become an issue that the right window treatment can modify.

Sloped roof of an A-frame home presents decorating challenges
Oct 10 2011
Furniture and accessories that are in English country, Arts and Crafts or rustic-style décor fit well with the architecture and mood of an A-frame dwelling.

Room darkening treatments for skylights come in variety of styles
Sep 21 2011
Homeowners need to consider the practical side of having a skylight when they choose window treatments for this source of light.

Roman shades have distinctive style without giving up practical functions
Sep 7 2011
Homeowners who admire the classic look of roman shades don't have to forfeit functionality when they order these versatile window coverings for their home.

Pleated, light-filtering skylight shades offer style and energy savings
Aug 22 2011
Homeowners who have skylights in their houses frequently face a dilemma of which window coverings will work best to control sunlight and save energy.

Cleaner lines can be found in eco-friendly window coverings
Aug 15 2011
As New York interior designer Stephen Sills sees it, the days of accumulating "stuff" are over, and the overall look of a room is what counts.

Wood blinds address mood and function as the 'Meghan Method' advises
Jul 29 2011
Designer and author Meghan Carter has named her current book signing tour the "Anyone Can Decorate Tour," and she means it.

Energy-saving cellular blinds arean attractive addition to a basement re-do
Jul 25 2011
Cellular blinds can add a stylish look as well as energy savings when homeowners are considering a makeover of their basement into extended family space. These window treatments, which help conserve heat in winter and cool down hot rooms in summer, come in a variety of colors that can be matched to contemporary or traditional decor.

Move toward natural colors in cars can influence home design choices
Jul 13 2011
If homeowners can take their cues from fashion runways to select colors for home decorating, why not consider the newest car colors as well?

Attic renovations are increasingly done to extend a home's livable space
Apr 11 2011
A recent survey by the Home Improvement Research Institute found that one out of five homeowners polled said they were planning to renovate their attics into livable space in the near future.

Solar shades and modular homes are a good fit for saving energy
Mar 16 2011
The small, efficient style of modular housing isn't the only attraction for homeowners joining the growing numbers of modular homeowners.

Legendary designer's style was about making an impact in home decor
Feb 23 2011
Legendary interior designer Dorothey Draper was so famous from the 1930s to the 1950s that her name became an adjective to describe a certain style of decorating.

Energy-efficient products tax credit extended
Feb 17 2011
This law extended the energy-efficient products tax credit to all Americans, which could make a significant impact in the remodeling and home construction market.

Cellular shades offer security and energy savings for a garage workshop
Feb 3 2011
A potting bench, a pegboard and plywood shelving with attractive corbels instead of brackets for support can turn the back wall of a garage into a stylish workshop, according to Better Homes and Gardens magazine.