Below is a list of parts that are used when installing vertical blinds. Note: You may not receive all the vertical blinds parts listed. We will send you the parts you need to install your vertical blinds.
Mounting Brackets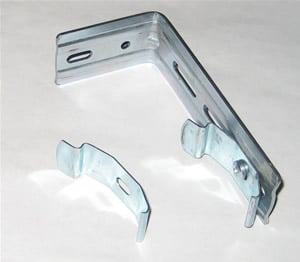 Vertical Blinds Mounting Bracket
Standard bracket used to install vertical window blinds.
Vertical blinds may be mounted inside the window frame our outside with this same bracket.
Outside mount vertical blinds bracket or clip is attached to an "L-bracket" to mount to the wall


Attach the bracket to the wall or window frame using 2 screws.
Once the brackets are mounted, simply clip the vertical blinds headrail into the mounting bracket.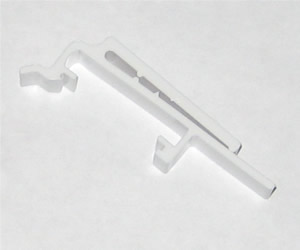 Vertical Blinds Outside Mount Valance Clip
Valance clips are used on outside mount vertical blinds.
Attach the clip to the top of the headrail with the "C" shaped portion of the clip
Slide the vertical blinds valance into the channel.
....................................
Blinds Chalet has more than 25 years of experience selling and installing window shades including vertical blinds. Attractive, high quality, and durable window blinds and window shades fit any energy saving plan, decorating style, and budget. Blinds Chalet window coverings come from manufacturers who use only the highest quality materials and resources, and each is backed by a limited lifetime warranty. . For information on what types of window blinds, blind accessories, vertical blinds installation and any other window covering needs, visit www.blindschalet.com.