At Blinds Chalet we offer a wide selection of natural woven grass shades. Our exclusive line of
Tavarua woven wood shades
lead the industry in quality and design. They are what we would call a green product because they are so environmentally friendly. Here are just a few reasons why our Tavarua bamboo shades are better.
Price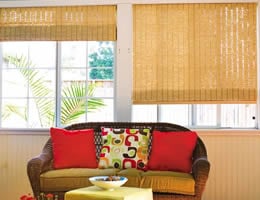 Our Tavarua
woven grass shades
offer one of the lowest prices you will find. Also watch for our free upgrades and promos on these natural woven window shades:
FREE Edge Binding
Adding fabric edge binding protects the delicate grass edges and adds a splash of color to accent the room. Optional upgrade from our standard 2 inch edge binding to a 4 inch edge binding.
FREE Privacy & Blackout Liners
Purchase 4 or more Tavarua woven grass shades and we will give you free fabric liners on all of them. Because natural woven shades will not provide complete privacy, a liner is suggested. Choose from an attached liner that moves with the shades or a separate liner with its own lift control.

Quality
Don't  let the price fool you. Our Tavarua woven wood shades offer top quality at a bargain. Look for the subtle things that make our grass shades better such as:
Heavy duty lift mechanism in a bronze color so it matches the shades natural color better.
Color coordinating cords and tassels
Heavy cloth fabric liners that are sewn and hemmed with matching thread.

Eco-friendly
Our woven grass shades are hand selected from a renewable bamboo resource of environmentally friendly wild grown bamboo. No pesticides or chemicals are used.
Whether you are looking for a thicker bamboo pattern to the delicate woven grass shades, our
natural shades
offer top quality products at a discounted price.