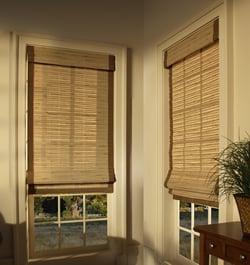 Choosing window treatments for your home is an important decision and should reflect your own style and taste. Often you can pick up simple adornments from your local Walmart along with your other household items. But for quality bamboo blinds you want to purchase them from somewhere with superior quality and value.
Unlike Walmart, at Blinds Chalet each of our
bamboo blinds and shades
are custom made to your exact window size. That means the bamboo blind fits perfectly in your window. No need to adjust the blinds when they arrive.
Window blinds purchased from you local Walmart store come only in specific sizes. Usually the width is only available in inch increments and the height in every six inches making it hard to get that custom fit. Either the blinds must be mounted outside the window frame which doesn't look as nice or mounted inside the window frame with gaps between the shades and the window frame. Plus there is additional shade at the bottom when they are lowered.
Because our bamboo shades are custom made you can upgrade with fabric edge binding to protect the edges or add privacy or blackout liners for light control and complete privacy. We also often offer promotions such as free edge binding or free liners.
Our knowledgeable staff can assist you with any questions you might have. Unlike Walmart, our customer service agents are trained professionals in the window covering industry.
Why do we insist that department stores such as Walmart not be your location for window blinds? Certainly this sort of retailer benefits from the millions of items. For items as important as window coverings that reflect your style and taste, turn the experts at Blinds Chalet. If you are looking for a quality bamboo blind at a competitive price, shop no further than Blinds Chalet.