Q:
Can I add the ComforTrack rails to the standard honeycomb blinds for added insulation?
A: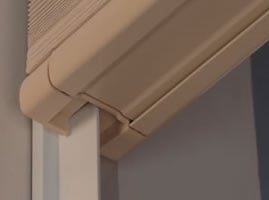 With the ComforTrack energy saving cell shades an added side track is attached to the inside of the window frame, blocking energy loss. Because ComforTrack shades are made a different size than standard cell shades, the ComforTrack side tracks cannot be added afterward. The edges of the ComforTrack cell shades also have a special groove cut into the fabric where the sidetrack rides inside the shades.

ComforTrack shades are designed to insulate and save energy. With their unique sidetrack system that creates an added barrier, keeping cold air trapped between the honeycomb shades and the windows.

Available in standard lift or upgrade to cordless cell shades or a top down bottom up blind. Cordless shades are great for child safety while top down bottom up shades allow the top of the blinds to be lowered, letting light in the room while still providing privacy.
1
answers