Premier Day & Night Shades - Light Filter/Blackout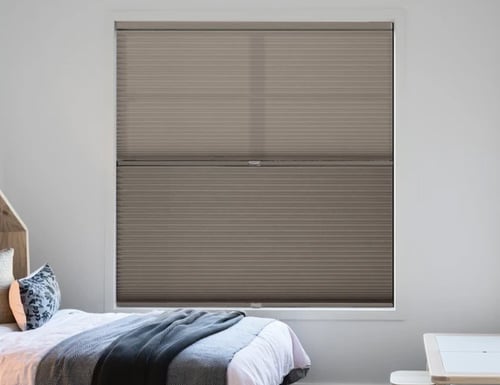 Bookmark/Share this product:
Two shades in one! Our Premier Day & Night Light Filtering Shades offer both blackout shades as well as translucent shades in the same window blind. Both window shades are mounted with the same headrail with a color coordinated rail between the two fabrics.

Made with honeycomb cell shade fabrics for added insulation and energy savings. Let the light filter into the room or lower the blackout shades for additional light control. Each fabric has it's own lift cord. One for the sheer and one for the blackout. Color between the translucent and the blackout fabrics may vary slightly due to the blackout liner inside the honeycomb cell shades.
Instant Savings! Dont forget to enter coupon at checkout for the 45% Off Savings !






Due to the color variation between monitors we recommend ordering samples before placing your order if color is important.
Privacy Colors

This is a forum to ask product related questions that will be answered by our design consultants. If you have a question regarding an order or a customer service issue, please call us at (888) 633-7840 or use our
contact form
.
Approved questions and answers may take several days to appear on site but you will receive a quick response to your question.
Q:
Can you see the view through the day shade? We have a beautiful view but would like to block the direct sun.
Asked on Sep 21 2013 by darlene
A:
There is no view with the day shade. It is a privacy shade. The Premier Day & Night Shades - Sheer/Blackout offers a sheer shade and a blackout shade that allows them to be viewed through.
Thank You
Q:
Can the shades be raised up completely? OR is it just light filter or blackout?
Asked on Nov 25 2012 by Deb
A:
The shades can be lifted up completely so there is not shade blocking the view. They can also be lowered with either light filtering fabric or blackout fabric covering the window.
Write a Review

These shades are great!
Oct 17 2011
Measuring:
I measured my own blinds!
Installation:
I installed my own blinds!
These shades are great! They were delivered promptly after I received a call from the company to confirm the colors of rails, they were the easiest shade I have ever installed, and they are BEAUTIFUL.
I am SO happy with your product, and how fast your delivery was!
Jul 7 2011
Measuring:
I measured my own blinds!
Installation:
I installed my own blinds!
I am SO happy with your product, and how fast your delivery was! I have bought a day and night shade and everything is wonderful!
Thanks very much.
Shipping
Each of our blinds and shades are custom made to your specifications. You can expect them to arrive approximately 2 to 2 1/2 weeks after ordering. Standard shipping is UPS or FedEx ground.
Product Specifications
Width:
7" - 72"
Height:
5" - 72"
Free Features

Hold Downs (Outside Mount Only)
Hold downs are used to tie the bottom of the window blinds. This is used for applications such as french door blinds to keep the blinds from moving when closing the door.
Need Help Finding Something?
At Blinds Chalet we can special order just about any window covering even if it's not on our website.

Call us at (888) 633-7840
or