Part 2 of 2 of instructions of how to install honeycomb cell shades. Simple instructions to install our standard and soft touch honeycomb cell shades.
How to Install Honeycomb Cell Shades
Outside mount with extension bracket
Inserting the headrail

First lower the bottom rail about an inch. This will help keep the
cellular shade
fabric from getting caught between the brackets and the headrail. Position the headrail with the front lip(A) resting on the top hooks of all the brackets. Make sure that no fabric is pinched between the brackets and the headrail. Push the bottom of the headrail firmly upwards and toward the window until the groove at the bottom of the headrail snaps into place (B) as shown.
Operation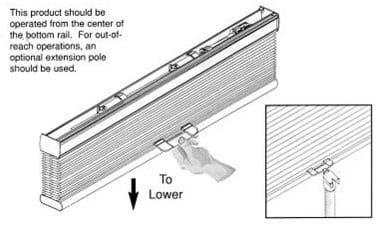 To lower the shade, pull down on the handle which is secured to the bottom rail. To raise the
honeycomb cell shade
, push the bottom rail up. The shades will hold at any position when the bottom rail is released.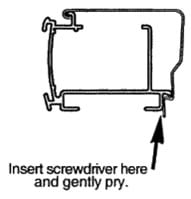 Removing the headrail To remove a shade, insert a screwdriver between the headrail and the bottom back of the bracket (tab which extends out slightly from each bracket). Gently pry the screwdriver to release the bracket from the headrail Take care not to damage the painted finish of the headrail. As you release the brackets support the headrail to keep it from falling.
Installing the handle

Locate the center of the bottom rail. Gently lift fabric out of the way. Hook the top of the handle over the front lip on the bottom rail. Rotate handle down until it snaps into place.
Trouble shooting
Problem:
Cordless Shade will not stay down.
Cause:
Because cell shades are fabricated primarily in the closed position, the fabric may want to spring up.
Repair:
Gently pull down on a section of cells to relax the pleats (see diagram below). Repeat with another section of cells until the fabric is sufficiently relaxed. Leave the shades down and do no tightly stack the shade for 24 hrs.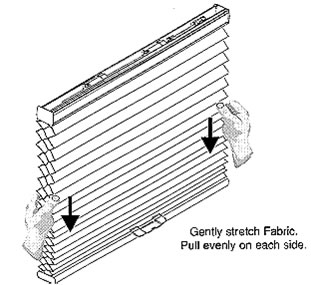 ....................................
Blinds Chalet has more than 25 years of experience selling and installing window shades including honeycomb cell shades. Attractive, high quality, and durable window blinds and window shades fit any energy saving plan, decorating style, and budget. Blinds Chalet window coverings come from manufacturers who use only the highest quality materials and resources, and each is backed by a limited lifetime warranty. For information on what types of window blinds, blind accessories, and any other window covering needs, visit www.blindschalet.com.