Q:
Are window blinds or shutters better?
A: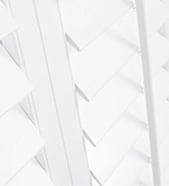 Interior Window Shutters

The advantage to shutters over window blinds is that shutters provide the best light control and privacy of any window covering. Shutters close tight eliminating light gaps. Not only do they provide privacy and light control they also insulate better than horizontal blinds. This added insulation saves energy.

Although standard window blinds provide privacy and light control they do not block the amount of light a shutter would. There are however other alternatives such as the SlumberShades that will block virtually all light from entering the room.

One advantage window blinds have over shutters is the cost. Shutters are one of the most expensive window coverings although the cost may be worth it. Good quality shutters last forever.

Window shutters are made from various materials. Choose from real wood shutters to synthetic or composite shutters. Composite shutters are made from vinyl or other synthetic materials that look like real wood but last longer and cost less.

At Blinds Chalet we offer a wide selection of interior shutters. Shop online, measure, install and do it yourself and save big. Buy your shutters today!
1
answers