Q:
I am interested in your Energy Track 3/8" Translucent double cellular. My dimensions are roughly 69W x 54L. However, I have very limited header space for mounting. Can you tell me the width of the header rail?
A: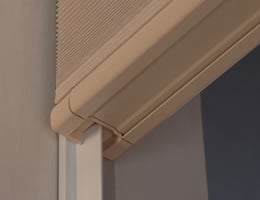 Energy Track cellular shades must be mounted inside the window frame with a minimum of 1 1/2 inches of depth. For a flush mount shade you will need at least 2 inches. Flush mount means that non of the cell shades extend out of the window frame but is completely inside the frame.

Energy Track cell shades offer side tracks to block more heat loss and save energy. Energy Track is our private label version of the ComforTrack honeycomb cell shades. Both the Energy Track and ComforTrack cellular shades may currently qualify for federal tax credit.

Energy Track cell shades come in either light filtering or blackout fabrics. Upgrade any cellular shades with cordless or top down bottom up. Order your Energy Track shades today!
1
answers