When
vertical blinds
are drawn, the open vanes gather together forming a "stack" on one side of the window. The size of the vertical blinds stack will vary and is directly proportional to the width of the
window blinds
. The wider the window blinds are, the more vanes the blinds have and the more room the stack will take up.
When measuring for vertical blinds, the size of the stack should be taken into account. Typically on outside mount blinds extra width may need to be added to the blinds so when they are opened the stack of the blinds will not cover a portion of the window or door.
Below are standard measuring charts for calculating the number of vanes on a vertical blind and the size of the stack for different widths.
Vertical Blinds Stacking
Stacking for standard vertical blinds with a one way draw
Use the chart below to determine the overall width of vertical blinds for proper clearance of windows or doors.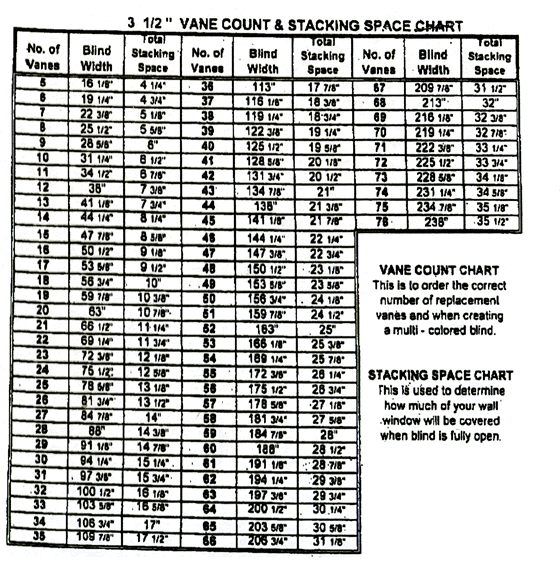 Stacking for vertical blinds with a split draw.
Stacking size is for only one side of the vertical blinds on split draw. Overall width of the stack for both left and right sides will be doubled from what is on the chart.

Both charts also show the number of vanes a vertical blind will have based on the overall width of the blinds. Each chart also shows the amount of wall space a vertical blind will cover when fully opened.
....................................
Blinds Chalet has more than 25 years of experience selling and installing vertical blinds. Attractive, high quality window blinds that fit any energy saving plan, decorating style, and budget. For information on what types of window blinds, blind accessories, and any other window covering needs, visit www.blindschalet.com.