Search Results For: roller shade
25 Matches
Window Coverings
Common Questions for "Roller Shade"
How To's for "Roller Shade"
Door Blinds - How to Measure for French Door or Traditional Door Blinds
Door blinds can be any blind or shade mounted as a
door mount blind
. French door blinds or traditional door blinds are simply outside mount blinds or shades with hold downs to keep them from swinging as the door opens or shuts. People commonly mount blinds in a door at their home or office. Popular blinds that are used on doors range from faux wood, wood, cellular shades and roller shades. When measuring for
french door blinds
there are several things to consider....
more
Measuring Roller Shades
Each
roller shades
comes with a cord lift. The side in which the lift cord is located will have a gap to allow room for the lift.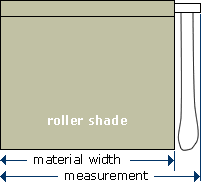 The measurement will be the tip to tip measurement and will take into account the width of the controls....
more
Affordable Roller Shades
Roller Shades are an ideal
window treatment
for homes and offices. They are a perfect compliment for floor-to-ceiling windows and large windows that receive direct sunlight. Their sheer weave design comes in a variety of openness, which refers to the amount of light enters the room. Roller shades maintain views while blocking UV rays and help keep rooms cool. As a mid-summer incentive for homeowners and companies trying to beat the summer heat, some companies are offering discounts on popular roller shades....
more
Window Blinds and Shades Suited To Desert Environments
With one of the hottest summers in years sweeping the nation, people are looking for ways to stay cool in the summer heat. Window treatments are an easy, inexpensive way to help cut air-conditioning costs and to get a little relief from the sun. Below are some of the
best blinds
for desert living. Get relief from the heat immediately by ordering window treatments and blinds that have one or two-day production times....
more
Bamboo Roller Shades, Woven Wood Shades and Sliding Panels
Bamboo has become increasing popular with consumers for many reasons. The first is bamboo's sustainability. Harvesting bamboo is nothing like harvesting trees from the forest. Bamboo grows at a faster rate than almost any other plant on earth, up to four inches per day. The next reason bamboo is becoming popular in home decorating is the flavor it brings to a room. Bamboo offers style, as well as an 'island' feel....
more
Smart Weave Solar Screen Roller Shades
Have you ever been in a restaurant of office where the sun hits you right in the eyes? You are squinting to see what's going on, but the strain on your eyes soon gives you a headache. Wouldn't it be nice if there were a solution to the problem? There is.
Smart Weave Solar Screen Roller Shades
block glare and UV rays. They can be lowered to keep the sun's rays out, but let light in. They help maintain views, so the room continues to have light unlike drapes or traditional blinds. ...
more
Energy Efficient Shades
With winter coming, many people are looking for energy efficient window treatments to help save money on energy bills. There are a variety of energy efficient window treatments that work to different degrees. Below are a few of the most popular
energy efficient shades
....
more
The Good and the Bad of Top Selling Blinds
For those looking to redecorate or update their homes, installing window treatments is the simplest place to start. Updating a home with modern window treatments helps increase the resale value. For those looking to redecorate,
blinds and shades
can change the feel of a room without an expensive remodel. ...
more
Green Window Treatments
Many people ask if there are ways to incorporate eco-friendly window treatments into their home design and still have a stylish appearance. There are. Bamboo offers and exotic flair to homes, while roller and solar shades give a subtle polished appearance to a room.
Cell shades
are probably the most plain as far as design goes, but the selection of rich, neutral colors are a great compliment to any room....
more
Finding Window Treatment Information On-line
In the past, when some one wanted to know how to dispose of their blinds, or the best way to clean their
blinds
, they often asked their neighbor or a friend what they did. This was a great system as long as someone in the network knew what to do. Today, the Internet has changed everything. Answers to virtually any question can be found with a few clicks on a keyboard. This is making everyone's life a lot easier....
more
Cool Shades
There are tons of blinds, shades and window treatments on the market. There are the energy efficient ones – honeycomb cell shades – the environmentally friendly ones – EcoGreen Roller Shades and bamboo shades – there are the elegant blinds – Roman Shades – and there are the classic blinds – wood blinds. But where are the fun ones? Where are the window treatments that show a little personality?...
more
New Year – New Blinds
Sometimes New Years resolutions are made with the best intentions to keep them, but because of financial situations, they sometimes get pushed over from year to year. This year, why not fulfill those resolutions while there are sales and discounted items so that you not only get to cross that item off your list, but you get the sense of accomplishment of doing what you said you were going to do?...
more
Matchstick Shades
Matchstick shades are also known as bamboo shades or woven wood shades. They offer an elegant South Pacific or tropical feel to a room, apartment or guesthouse. Generally, each woven wood shade will be slightly different in appearance as the unique characteristics from each piece of wood will be slightly different....
more
Collegiate Window Shades
I wish these window shades were available when I was in school. Collegiate window shades feature your school's logo on them. Each school has a number of different logos to choose from, so you can pick your favorite, or the one that goes best with the rest of your décor....
more
Window Treatment Solutions for Seniors
Looking for window treatment solutions for seniors? Some blinds and shades are heavy, difficult to operate or have thin cords that can be problematic to grip. However, there are window treatments out there that provide ease of use. As people age, some may suffer from arthritis and other age related conditions. Opening and closing blinds shouldn't be difficult for anyone of any age. As such, we have compiled a list of window treatments that are easy to operate, lightweight and still stylish....
more
Cheap Shades, Arizona … That's the Answer
When someone hears the word cheap, they may conjure up one of two meanings. It can either mean cheap, as in not well made, easily broken and won't last long or it can signify that an article can be purchased for a small amount of money. For the purposes of this article, we will talk about shades that don't cost much money. Here are a few examples of very economic blinds for your home or office that can be purchased very without breaking the bank:...
more
Window Treatments
Summertime is upon us, and the sun's rays are falling much faster, and with greater force, coursing into the windows of any home or office they can find. There are some areas in the world that look forward to this "thaw out," as they are very cold for most of the year. However, the majority of the world's cities are filled with occupants that are realizing the importance of good window treatments about now. This, for the sake of this article, is irrelevant, for whether the home of office owner is trying to keep the sun out, or trying to keep the cold out, it still holds true that window treatments are a vital part of owning an office or a home. There are a myriad of choices when treating windows for your home or office:...
more
Roller Shades - How To Repair Spring Functions
Spring
roller shades
are designed with a hollow metal tube at the top usually made of aluminum. The fabric of the roll-up shades wrap around the metal tube. Inside the metal tube of the roller shades on one side is a spring that can be adjusted for proper tension to raise and lower the
window shade
. As you pull the roll-up blinds down a ratchet in the tube catches and holds the spring, keeping the shades at the position you lower them. The opposite sides of the window shades just has a pin that rotates on a mounting bracket....
more
News Articles for "Roller Shade"

Holiday guest quarters should include a place to relax and read
Nov 18 2011
With the onset of the busy holiday season, homeowners often have to arrange guest quarters they hope will make their visitors comfortable.

The right display is needed to show collectibles in the best way
Nov 18 2011
Interior decorator Shari Hiller counts family photos, books and collectibles among the best accessories that reflect a homeowner's special interests or hobbies.

Roller shades remain one of the most versatile window coverings for all decors
Nov 17 2011
For their selection of fabric patterns, colors, weaves and materials, roller shades are one of the most versatile window coverings.

Roller shades can coordinate with new paint colors and finishes
Nov 14 2011
In the world of house paints, the type of finish that a color has is becoming as important as the hue itself.

Bamboo sunscreen roller shades fit the growing 'lndustrial' style
Nov 7 2011
Increasingly, suburbanites are taking on some of the industrial design styles that have been popularized by urban loft dwellers.

Bamboo sunscreen roller shades are attractive from the inside and the outdoors
Nov 4 2011
A window treatment should be well-coordinated with a home's interior, but should also present an attractive view to passersby outdoors.

Cabinetry and shelving provide organized storage in a mudroom
Nov 3 2011
Adding wall cabinets with both closed-door space and open shelving can turn a mudroom into a multi-purpose space that does double duty as a home office.

EcoGreen roller shades are environmentally friendly as well as stylish
Oct 28 2011
Among the many roller shade selections from Blinds Chalet, an environmentally friendly choice is the EcoGreen roller shade.

Furniture and accessories need to 'grow' with a child
Oct 27 2011
Furniture for a child's room should be pieces that are versatile enough to "grow" with the youngster, bringing a classic look that will work with changes in color and accessories as the child gets older.

Blackout vinyl roller shades provide total privacy and affordability
Oct 24 2011
Among the wide selection of roller shades by Blinds Chalet are the blackout vinyl versions, which provide exceptional heat protection as well as total privacy.

Australian designer Joan Hall relies on design 'essentials' for room makeovers
Oct 20 2011
For Australian interior designer Joan Hall, no room makeover is likely to succeed without an understanding of four essentials – color, texture, light and balance.

Roller shades are a versatile choice for windows in a laundry area
Oct 18 2011
Painting a laundry area sets it apart from other nearby rooms or sections of a basement and gives a jolt of bright color to an area that's usually more utilitarian than stylish.

Graphic art or company logos can be customized on Blinds Chalet roller shades
Oct 11 2011
Consumers and business owners both have the option of creating a logo or graphic design on customized roller shades from Blinds Chalet.

Upgrades available to motorize shades and hide window hardware
Oct 11 2011
A variety of optional upgrades for Blinds Chalet's line of solar screen shades add to the attractiveness of the window treatment and provide a motorized, cordless version of the shades.

Solar screen shades cut sun glare, block UV rays and save energy
Oct 11 2011
With the growing number of electronic devices in the average household, eye strain has become an issue that the right window treatment can modify.

Fabric roller shades can be matched to furnishings around reading nooks
Oct 10 2011
A reading nook can be set up in any room where it will be comfortable for the reader, but task lighting from a table lamp, wall sconce or floor lamp is a must wherever the nook is located.

Roller shades are attractive and affordable for a hobby room
Oct 4 2011
Homeowners who are considering setting aside an area of their basement to set up a hobby center need to consider maximizing the amount of natural light that is available for the activity.

Quick fixes, including new window blinds, can help a rental reflect a student's taste
Oct 3 2011
By now, college students have unpacked their boxes - hopefully - and settled into a regular schedule of classes. But if they are renting a furnished or partly furnished apartment, they may be wondering how they will get through the year with décor that doesn't fit their taste.

Screen panel track blinds solve the problem of covering extra large windows
Sep 30 2011
Extra large windows can sometimes present a design dilemma for homeowners.