Q:
I having a baby and am decorating our nursery. What are the best nursery blinds?
A: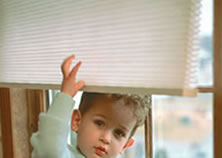 The best nursery blinds would be any of our cordless products. Dangling cords can be dangerous around pets and children. Blinds Chalet carries a wide range of cordless blinds and shades including cell shades, roller shades and more.

Consider where you place the crib and other furniture location with small children. Make sure window coverings are not within reach. When if comes to pet or child safety blinds without cords are always the best option.

Cordless blinds still use cords but they are contained within the blinds eliminating harmful, dangling cords. The cordless lift uses a special mechanism within the shades to raise and lower them by simply using the bottom rail of the blinds.

Our child safe blinds come with free shipping and are delivered right to your door at prices lower than the hardware store. Shop online at Blinds Chalet for cordless blinds and save!
1
answers