Q:
I have 3 patio doors with the center door as the walk out. I want to cover them with bamboo shades top down. Would this work with what I have?
A: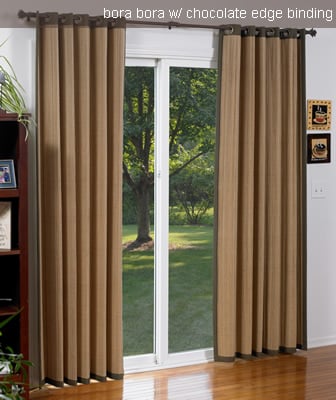 Tavarua Bamboo Ring Drapery

If you like the look of bamboo shades and drapes for patio doors we would suggest our woven wood drapery panel or bamboo draperies. Standard bamboo blinds are made of the same woven wood material, but the concern with standard bamboo shades and drapes for patio doors is the stack is very high at the top when the shades are raised. A standard patio would have about 14" of stack to it, which could cause a problem walking in about out of the patio door.

Bamboo draperies are mounted above the sliding patio door on a curtain rod and pull to each side of the door. Because they fold back and forth as they open they take minimal space when fully open.

A second option is bamboo sliding panel track blinds. Panel track blinds are similar to a vertical blind but they have larger panels about a foot wide made from bamboo woven wood fabrics. Each panel stacks behind the other when the panel blinds are drawn open. Because the panels are wide, they will have a large stack to the sides when open. To compensate for this they may be ordered wider so the stack rests to the side of the window when open.

Another option may be bamboo roller shades. Bamboo roller shades have a smaller stack at the top of the window than standard roman bamboo shades. They are, however, not available in some of the larger sizes needed for patio doors.

We use the same woven wood fabrics with all of our Tavarua bamboo products. Whether it is standard bamboo blinds, bamboo curtains, or bamboo sliders, they all match.
1
answers