Q:
I am looking for see through roll up shades. What choices do I have?
A: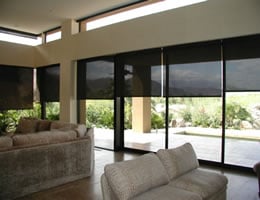 Blinds Chalet carries many choices for see through roll up shades. We have an entire category of roller shades made with screen fabric called solar screen shades. Now we offer outdoor see through roller shades for those looking to get a break from the heat.

The screen fabric used varies in the tightness of the weave. In the window covering industry this is referred to as the "openness" of the screen fabric. Blinds Chalet carries screen roller shades ranging from the tightest weave of a 1% openness to a 14% openness screen. The tighter the weave the more privacy and the more they block the view. The looser the weave or the higher openness factor the more light passes through the shades and the less privacy they provide.

A key factor with screen roller shades is that they are see through. They will provide privacy during the day when it is lighter outside but when the interior is light and it is dark outside they can be seen through.

Whatever your needs, Blinds Chalet is sure to have a screen roller shade to meet your needs. Shop online, get free shipping and save on your purchase of see through roll up shade!
1
answers