Measuring for
custom drapery panels
is simple, just follow these easy steps:
Measuring for Width
Measure the window you wish to cover. Add 4 to 5 inches of overlap on each side or a total of 8 to 10 inches to the overall window width.
All of our drapery panels come with fullness built in, so just order the size measured plus the overlap. Fullness will vary based on the fabric and the window size but will be about 2 times fullness.
Drapery panels vary in width based on the fabric. When two panels are sewn together, the fabric may not always align along the vertical edge where the panels are sewn together, especially with intricate fabric patterns.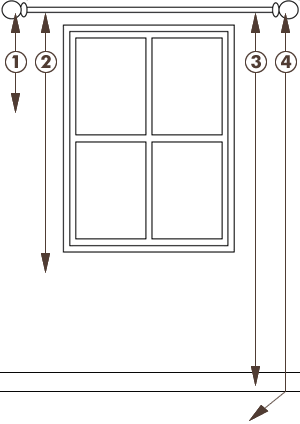 Measuring for Height
Finished height includes rings, rod pockets, or tabs and is measured from the bottom of the panel to the top.
Drapery panels
can be ordered at different lengths to achieve different looks.
For top treatment valances, simply order panels between 10 to 20 inches in length.
For curtains that hang above an object such as furniture, the panels should fall about 4inches past the bottom of the window frame.
For full length panels, we recommend the panels to measure about 1/2 inch from the floor.
For puddling or poufs on the floor, add about 6 to 10 inches past the floor. This style drapery is not recommended for areas with high traffic.
Related Articles